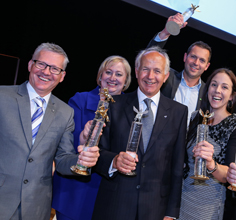 EREMA Holding received the prestigious "Golden Pegasus" business award from the Oberösterreichische Nachrichten newspaper in the category Leading Companies (over 250 employees) on 11 June 2015. The prize was awarded at a gala evening held at the Brucknerhaus concert hall in Linz with over 600 guests from politics and the business community of the province of Upper Austria. CEO Manfred Hackl accepted the Golden Pegasus on behalf of the entire EREMA team and was clearly moved: "We were not expecting to win and, after receiving the award in 2011 in the Medium-Sized Enterprises category, are absolutely delighted not only to have won the Pegasus now in the Leading Companies category but also and above all once again in gold. The award underlines the huge commitment of our workforce and the continuous development of our company. Our team spirit is so strong that we have recently been able to achieve extraordinary results with the new INTAREMA® product line within a very short space of time."

EREMA had previously won a Golden Pegasus in the Medium-Sized Enterprises category in 2011. This year's award for large enterprises makes EREMA the first company to have won the Pegasus in these two categories with gold on both occasions. The innovative Ansfelden-based company is understandably proud of the achievement.

This was the 22nd time the Oberösterreichische Nachrichten newspaper presented the Pegasus awards in the categories Small, Medium and Large Enterprises, plus special awards such as this year for Tourism/Food & Beverage, Investments, Women in Leading Positions and Lifetime Achievement. The jury – consisting of representatives of the Upper Austrian provincial government, business and financial experts and journalists – honoured 11 of the best companies and 2 entrepreneurs of the region with the Pegasus award.
Back to overview